Primavera 150 Color Vibe Limited Edition [OPEN FOR BOOKING]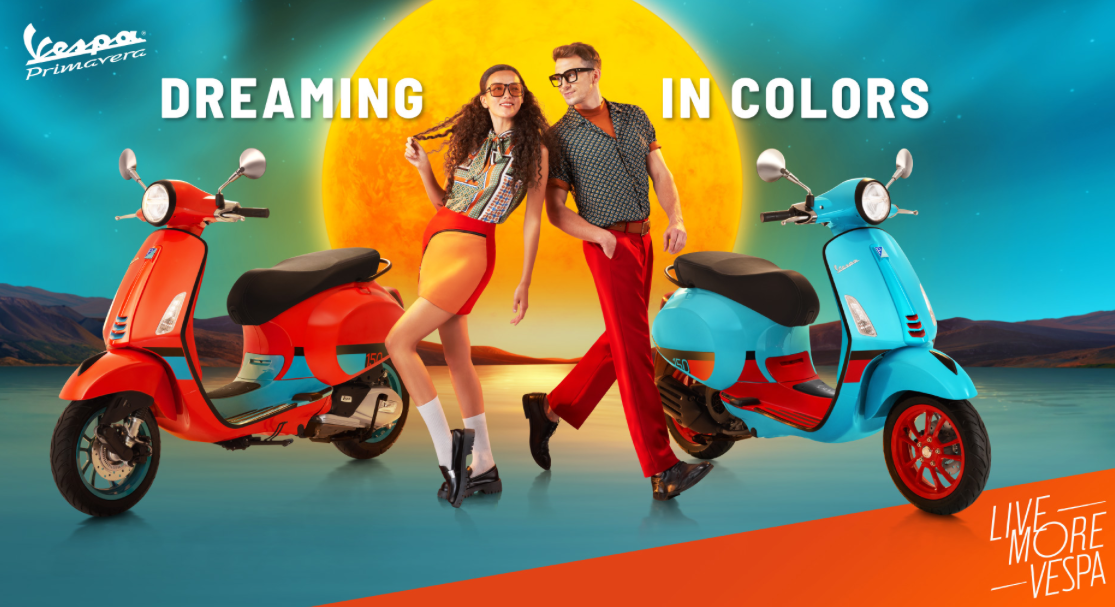 LET'S DREAM IN COLORS WITH THE NEW PRIMAVERA
Vespa Primavera Color Vibe is the bold, stylish and sporty version of the classic Primavera. This model came to life for the trend setters, the audacious who want to show their true selves in the most distinguished way from others, to be the one and define their own style to stand out from the crowd. Vespa Primavera Color Vibe is the ultimate trend setter, above its time, linking people through passion.
Vespa Italian motorcycle brand unveils Vespa Primavera Color Vibe new model scooter that comes with sleek, eye-catching colors blended with the timeless lines of Primavera A classic scooter inspired by 1968 with a sleek modern design.
By new shades of Vespa Primavera Color Vibe inspired by The color of the sunlight that hits the water before it sets to the horizon (The Oceanic Sunset) with mesmerizing two-tone colors like the atmosphere of a sunset and add a unique distinction with black decoration
For new shades of Vespa Primavera Color Vibe There will be 2 shades together, namely shades of orange. Orange Tramonto cut with blue Blue Audace and blue Blue Audace cut with red Red Passione Matched with blue and orange graphics on the sides and footboards. Including cutting with black border lines Add distinctive features with blue wheels and orange wheels.
In the section, the black lines are cool. will serve to divide the color pair of the car It also helps to accentuate the graphic pattern on the front and side panels on both sides. It also corresponds with the decoration that covers the control shaft area.
The dashboard, including the colors of the rims, shine from the metallic coating. The most exclusive in this model. to emphasize the ingenious character of the Vespa.
While the overview of the vespa, It comes with a black border around the headlights and taillights, as well as the front panel. top end of front fender Face shield and cover handrails for passengers and cover the exhaust pipe These lines also go with the black upholstery. Stitched edges with black gray color.
In terms of the power of the scooter Vespa Primavera also filled with modern technology With i-Get engine, single cylinder, 4 strokes, 3 valves, capacity of 154.8 CC, comes with fuel injection system. electronic injector It provides a maximum power of 9.5 kW or 13 horsepower at 7,750 rev / min and a maximum torque of 12.8 Nm at 6,500 rev / min. Circulating ventilation fan Ready to deliver power with a CVT automatic transmission.
Price Quote without insurance & roadtax