Sprint TFT Justin Bieber x Vespa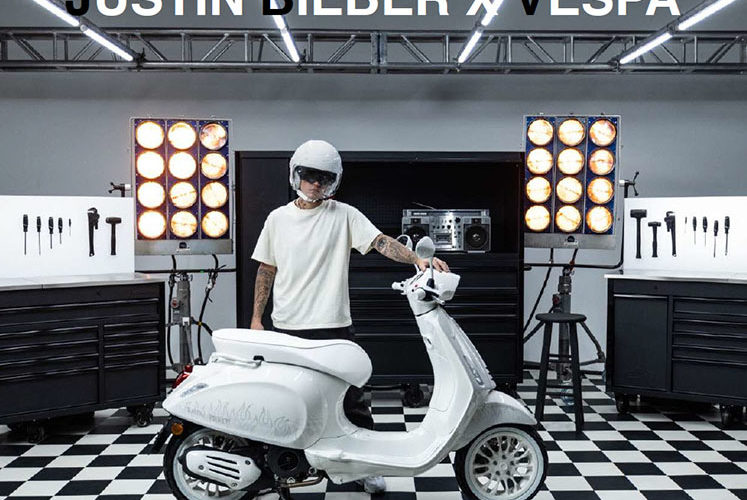 JUSTIN BIEBER X VESPA is rolling out with this custom Sprint 150. The fresh, youthful Bieber style really lights up this Vespa like no other. This truly looks like a "ONE-OFF" custom Vespa that you can ride out the showroom door. Bieber has done the work for you, now you just need to lay down your CA$H and ride. This Vespa Sprint has tons of custom touches never seen on a factory Vespa Sprint before. Ghost flames, White rubber (grips, floor rails, center mat), White Wall tires, White rims, White seat, White handrail, White switch covers, White mirrors, White trim, White muffler heat shield, and a "Justin Bieber" signature.
Your ride, your style
Angled mirrors and a square headlight give the classic Vespa a modern twist. There's no need to hold back when it comes to customizing your Vespa Sprint. With accessories for every taste, need and riding style, you'll hit the road with all you need for your daily adventures, in terms of function and aesthetics.
Plenty of technological bells and whistles
Full LED lighting on both the front and rear, a multi-function full-color 4.3" TFT display, Bike Finder and a remote seat opener are just some of the technical features that take the Vespa Sprint up a notch. On top of all this, the Sprint 150 comes with Vespa MIA as standard, connecting your smartphone to your scooter so that the dashboard becomes an extension of your phone.
Wheels that are ready for anything
The 12″ rims in aluminum alloy have a distinct sporty 7-spoke design to deliver stability, safety and outstanding grip on all surfaces and in all conditions.
A stunning, up-to-the-minute engine
Every model in the Vespa Sprint family boasts an i-get (Italian Green Experience Technology) 4-stroke, 3-valve per cylinder, air-cooled engine with electronic injection. This engine represents the state-of-the-art benchmark in its sector, with every detail from its exhaust to its internal transmission cover design and a new air filter were designed to ensure a smooth, quiet and pleasurable ride.
Accessories by Bieber
This exclusive limited edition is complemented by an equally impressive accessory collection. A bag, gloves, and a totally white helmet with an utter "Justin spin", will make your Vespa experience even cooler! Accessories sold separately
Meet Justin Bieber X Vespa
"The ability to create something that you know is going to inspire somebody else is so important to me. Creating things, it's a part of me"
"When I'm designing, I'm always thinking about: is this pushing things forward? Is this unique?"
"I just remember seeing a Vespa and being like, I WANNA RIDE ONE OF THOSE"
"Being able to collaborate with a brand that I have always loved, that's what the best collaborations are"
"Being a part of Vespa and collaborating on creating something so unique was such a fun adventure for me"
Price without insurance and roadtax