Shoei Glamster Off White Helmet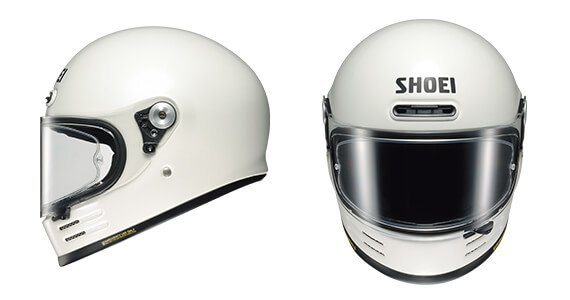 Design

SHOEI's "Evolution on the Classic Style"

The Glamster's shell is designed with both design and functionality in mind. This helmet features a design with attention to even the finest detail, without sacrificing ease of use. With elements such as the iconic ducktail shape of the SHOEI Neo-Classic series as well as a lower air intake with a stylistic design and more, we designed the Glamster in the style of a classic onroad full-face helmet.
Newly-developed CPB-1V shield/visor offers strong design sensibility with clear visibility

The Glamster uses our new flat-design CPB-1V shield/visor, which goes along well with the helmet's classic onroad full-face design. The shield/visor moves in an eccentric line when it is closed or opened, which prevents it from rubbing against the window beading for smooth operability. The window beading also matches the helmet's classic design, while its rim shape enhances airtightness. The Glamster makes your riding more comfortable with the latest features in the style of a classic.

*Do not push the shield tab directly upwards. Doing so may cause the PINLOCK® EVO lens to come into contact with the window beading, which may damage either the lens or the window beading.